The early part of the eighties was victorious for home-brewers in the United States after the federal legalization of home brewing.
In Colorado, the American Homebrewers Association held its first-ever conference. In California and Massachusetts, Sierra Nevada Brewing Co. and The Boston Beer Company sold their first iconic Pale Ale and Sam Adams Boston Lager beers, respectively. And the inaugural Great American Beer Festival opened in Denver to no more than 20 breweries and 800 attendees.
A wave of full-on microbrewing swept across the nation in the next decade with over a thousand breweries up and running. Finding sheer interest in the movement, Michael 'MJ' Jordan got himself a brewing kit and tinkered with making beers while still in college. He quickly fell in love to the point that he found exactly what he wanted to do in life: brew great beers.
The craft beer industry, still taking shape, was filled with great uncertainties, but how was MJ able to overcome the odds and reach his ultimate goal? Let us take you through this remarkable journey of a wide-eyed brewer that began in the US and stretched out to different parts of the world in pursuit of mastering his craft.
Off to a rocky start
The discovery of craft beers is different to many people, and MJ made his in the form of homebrewing during his college years in Oregon while taking up Life Sciences. His choice to turn brewing into a full-time career astounded his parents who questioned the decision. Undeterred, MJ got his start after graduation in the packaging department of a small, local brewery. The meager pay was barely an issue as he absorbed all the information he could from his mentors. In eight months since he joined, the company unfortunately closed. MJ then moved to two other breweries, which also went out of business.
One of these breweries was Henry Weinhard's, a historic brewery in Portland founded in the 1850s. The brewery was running well, MJ was seeing his skills grow, but then came the writing on the wall: the land where the brewery was sitting became way more valuable than the facility. It was only a matter of time for interested buyers to step in and make the purchase. And a giant, commercial brewing brand did.
At that point, MJ made a hard decision to leave, and he soon dealt with making another tough call—continue with his career in the craft beer industry or try something else.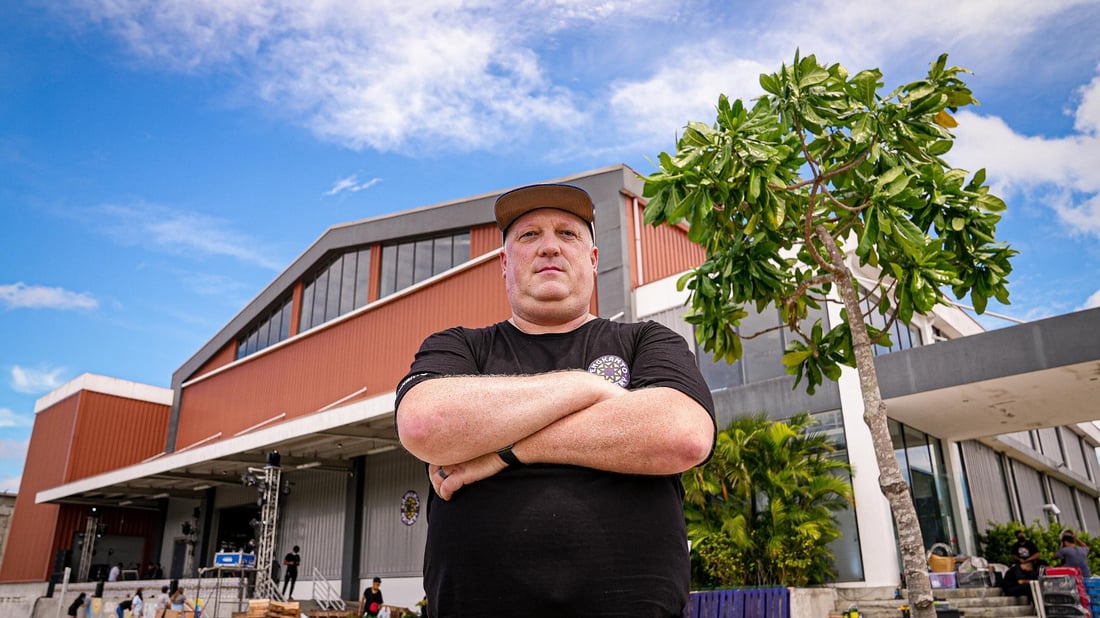 Exploring new territories
MJ went all in with his passion for brewing. He moved east from Oregon to Wyoming where he became the head brewer for Grand Teton Brewing, the first modern craft brewery in the state. It was a great recreation area outdoors and during his time, the family-owned brewery expanded.
Looking to gain more brewing experience beyond the United States, MJ accepted an open post in London, England, only to have his work visa denied. The sudden setback left him without a job. Luckily, a head brewer position opened in Spokane, Washington, MJ's hometown. He took on the role and worked for over a year, but the scene was unexciting compared to Portland's, so he packed his bags and left home for another spin.
Widmer Brothers Brewing, one of the founders of the Oregon Brewer's Festival held annually in Portland, was on the lookout for a new brewer. MJ was quick to take the spot. It was a step up for him as the brewhouse at Widmer's was full of automation and technology. It was here that he picked up many valuable techniques of the trade. Beyond all the practical applications, MJ was further encouraged by the company to pursue a formal education in brewing. He took specialization classes in Chicago and Montreal, Canada and earned his Diploma Qualification from the Institute of Brewing and Distilling in London, England.
Ready to test out his new knowledge, MJ took part in a local brewing competition that features the use of imported malts from Germany. As the grand winner, MJ earned a trip to the malting facility of Weyermann Malting Company in Bamberg, Germany and attended Brau Beviale, an international beverage trade fair.
Second time's a charm
The brief tour of Germany rekindled MJ's desire to explore the world through craft beers.In 2008, he moved to Denmark and entered Bryggeriet S.C. Fuglsang, a family-run malting company that also has its own brewery.
As the head brewer, MJ's role expanded to Fuglsang's malting facility, a rare chance he greatly treasures since it's an experience not many brewers get to have. He gained first-hand knowledge on how barley is brought in from the farm and converted to malt for brewing. With Denmark as his starting block, MJ also explored the brewing traditions and traditional beer styles around Europe and appreciated the history of beers around the continent.
Pushing further his boundaries, MJ discovered Boxing Cat Brewery in Shanghai, China after a successful job hunt. MJ became an instant fit with the founders of the microbrewery, but a tall order was ahead of him. Before he took the helm and helped make the company the most internationally recognized craft brewery in the country, the craft beer scene was largely unknown. On top of that, he's also adjusting to a new culture.
Not one to back down, MJ saw it as an opportunity to educate a wide swath of beer lovers about the greatness of the craft. He started teaching his brewing team and the restaurant staff and urged them to spread the knowledge to the customers. All the effort proved to work despite the tough times. Boxing Cat began to earn recognition and sold its beers to different bars.
Subsequently, in 2016, MJ led the company to its most prestigious award at the World Beer Cup, winning Silver for the Ringside Red Amber Lager. Noticing the vibe picked up, he started to organize annual festivals and invited local and international communities to come together and celebrate the craft. One of his notable collaborations was with Mikkeller, a large international brand from Copenhagen, Denmark. They had put together the Copenhagen Beer Celebration, which is now called the Mikkeller Beer Celebration, in which Boxing Cat Brewery took part several times.
Making his biggest move

MJ's growth mindset, for himself and the craft beer industry, inspired him to make his biggest move to the Philippines and become the Brewmaster of Engkanto Brewery. He initially found Engkanto's homage to traditional brewing recipes admirable, which was present in the flavors and aromas of the beers he initially tried.
In less than a year since joining, MJ has led the brewery to its first Country Winner, Silver, and Bronze awards from the World Beer Awards 2021. In a few months that followed, Engkanto craft beers soon bagged multiple awards at the Asia Beer Championship 2021.
It has been an incredible journey for MJ, but he sees no limits at this point. Every day at the brewery is unique and different because he likes to work with a hands-on approach. More importantly, he finds a greater need to spread knowledge about craft beers.
His desire is to help the craft industry grow, see more local craft brewers accelerate, and for all beer enthusiasts to truly appreciate and enjoy how great beers should look, taste, and feel.