Craft beer names like Pork Slap Pale Ale and Electric Boogaloo NEIPA can make you laugh, ponder about the brewer's strange imagination, or scratch your head and say, "What am I getting again?"
The creativity put into craft beers often get a lot of new enthusiasts carried away, not really knowing what the beer truly is, only to end up paying for a drink they can't even finish.
Let's leave all the names behind and break everything down into two terms: Ales and Lagers. These are your two starting blocks into the world of craft beer.
Fermentation, storage, and other factors in the brewing process tell them apart, but we're not here to point out their differences. We're simply marking the two main styles of craft beer that you must keep in mind.
Under ales and lagers are sub-styles such as Pilsner, Pale Ale, India Pale Ale, and many of the craft beers you've already tasted. The Brewers Association, which promotes small and independent craft brewers in the US, publishes an annual Beer Style Guidelines where over a hundred sub-styles of craft beers are recognized.
The guide is chock full of information, yet countless variations exist beyond it.
In essence, the world of craft beer is vast and complex. Navigating it can easily overwhelm any enthusiast. Still, we want to make it easy for you to pick up.
As you read our list of popular craft beer styles, we hope that your knowledge of craft beers will grow. It's not an exhaustive list, but it should leave useful ideas when you're ordering beer online or choosing from the drink list at a bar or restaurant.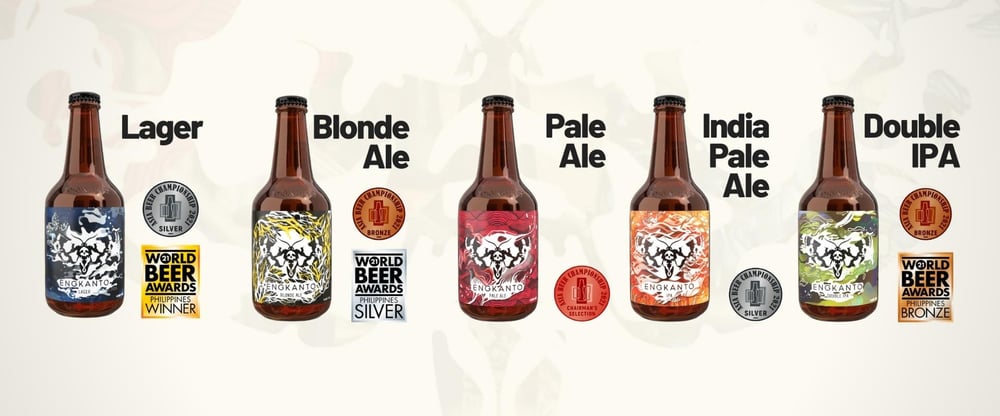 LAGER: World-famous style, hands down
Lager is the prevailing choice of beer lovers as a whole.
It's the first beer experience for many of us, and this can be attributed to giant, commercial breweries that became household names. Building their foundation around the lager, these breweries altered the traditional recipes with adjuncts such as corn and rice to meet their growing production demands.
Meanwhile, craft breweries continue to produce lager in smaller batches and pay homage to its classic brewing styles. Helles, a traditional German pale lager, is admired for its light taste and golden color. On the opposite end, the dark brown and smooth Dunkel, also originating in Germany, has a deep and complex flavor.
This shows that lager craft beers are diverse, contrary to common knowledge, and they carry sophistication through simplicity. Best of all, they are much more flavorful and easy-to-drink or sessionable for their relatively low alcohol content.
PILSNER: The lager that became a phenomenon
Among the sub-styles of lager, Pilsner stands out for its refreshing appeal.
At first glance, a classic Pilsner, also called Pilsener or Pils, is undeniably inviting with its pale straw to golden color. Despite that, some craft enthusiasts are quick to dismiss the pilsner as a boring drink, unaware that it's more difficult to master than the other styles.
A Pilsner's clarity alone can expose its flaws, that's why craft brewers love to take on the challenge of perfecting one.
In addition, a good Pilsner must have a distinctive malt backbone and delicate hop character like in the Czech Pilsner, briefly referred to as Bohemian-style Pilsner, where the name and style originated.
When the Germans adopted the Czech style as their own, adding more carbonation and bitterness, they then brought a German-style Pilsner to the United States. This started the dominance of commercial American-style Pilsners or American Lagers we know today.
The part for lagers ends here, so take a moment and try to commit some of these to memory: Pilsner is a sub-style of lager-like Helles and Dunkel, and below Pilsner are several types that include Czech Pilsner and German Pilsner.
PALE ALE: Striking the balance in a beer
The term 'Pale' was a simple, catch-all term before it became significant in craft brewing.
It was uttered back then to quickly spot the light ales from darker beers. English-Style Pale Ale, which is now more specific, was previously called 'Bitters'.
Gold to copper in color, English-Style Pale Ale uses classic English hops that give a level of bitterness that isn't overpowering. Its yeast strains produce esters that often add fruitiness while the moderate use of malt creates the right balance. And it's this balance that makes this medium-bodied, rich-flavored craft beer enjoyable among drinkers.
The American Pale Ale, inspired by its English counterpart, uses big and bold American hops, which tend to give more citrusy and piney flavors and aromas. This sub-type of Pale Ale was made for easier drinking with usually a lower alcohol content.
Another sub-type coming from the US is the Blonde Ale, also called Golden Ale since it was brewed to become visually stunning. Its color ranges from straw and light amber, clarity between brilliant and hazy, and typically has a crisp and light profile.
So what should you take note of when trying Pale Ale for the first time? It's a craft beer that's smooth and aromatic, malt and hops well-balanced, bitterness is low to medium and approachable for new enthusiasts.
INDIA PALE ALE: Bold and bitter craft icon
The India Pale Ale or IPA has become a polarizing icon of craft beers.
Its origin story widely told is that sailors from Great Britain traveling for India loaded hops into barrels of ale to preserve the beers for the long, six-month journey. October Ale, the first name of the heavily hopped beer, would age like wine. What came out was a stronger, more bitter beer, and was perfectly refreshing for British Empire living in India's hot climate.
It carries a distinct bitterness that perhaps made you more interested in the craft. On the contrary, you may have shunned it for the very same reason. Either way, the IPA's hop-forward character proves that craft beers can carry more exciting aromas and flavors.
While the IPA's popularity came and went in Europe, American craft brewers saw an opportunity to revive its classic recipe and gave it a powerful spin. Hence, the Imperial India Pale Ale or Double IPA, a beer high in alcohol, aroma, hops, and bitterness, was born.
The New England IPA, despite the name, is a discreet version of the American IPA. Instead of homing in on the bitterness, its hops focus more on making fruity and tropical aromas and flavors. Hazy, juicy, and totally alluring, this spin-off gave way to the 'haze craze' among craft drinkers in the US.
An intimidating sensation, the India Pale Ale is here to stay and evolve. There's no need to rush for the next one. Like we always say to newbies in craft drinking, working your way up a 'craft beer flight' or sampling beers from lowest to highest alcohol content is best.
Craft beers are brewed to have a specific character and you must enjoy the experience of getting to know them.