If you can envision what can actually be, then you can act on the things you've wanted to change for so long.



These inspiring Filipino chefs have proven that powerful statement by achieving their culinary dreams. All of us at Engkanto are moved by their immense passion to at long last, make a change. After all, that is exactly what Engkanto stands for today, and we were humbled when they found our story relatable and inspiring.
And when they included Engkanto craft beer into their special dishes due to our craft beer's authenticity, freshness, and lack of additives, we were all humbled and grateful in return!
Read their motivational stories and download the special recipes they've prepared with Engkanto craft beers, which you can do in the comfort of your home.
Chef Kalel Chan carves his own path in the kitchen
The man behind the innovative dining concepts for Raintree Restaurants, Chef Kalel Chan has been the group's corporate chef for close to two decades. He's paved the way for restaurants such as Chotto Matte and Providore in Manila Cha Cha's Beach Café in Boracay.
Among Chef Kalel exceptional traits is his flair for modern Asian fusion cuisine. At a test kitchen event at Greenbelt 3 Open Park in Makati City, he won the hearts of food critics with Pork Sisig Gyoza, his rendition of Japanese pot stickers stuffed with the sizzling Filipino beer match.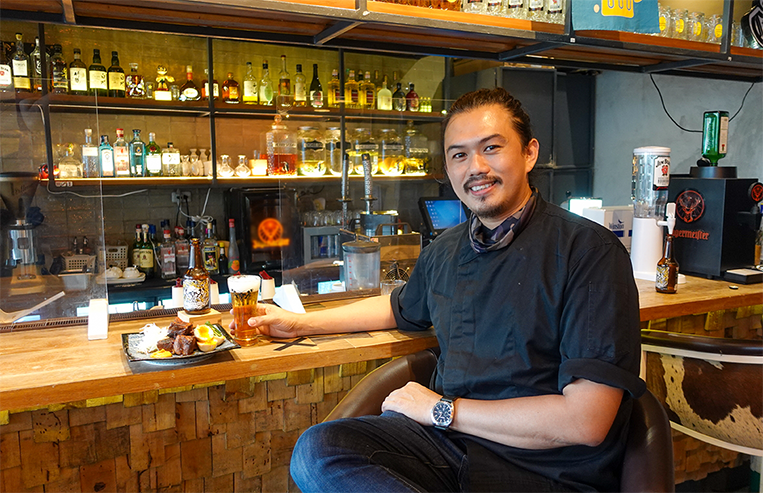 Chef Kalel's knack for innovating cuisines wasn't as clear cut from the onset. A life-changing realization that a former job wasn't for him pushed Chef Kalel to search for a new path. During this time, the food business wasn't still in-demand, but he took a chance after getting invited to work in the kitchen of M Café, led back then by Chef Sau del Rosario, where he learned from all the challenges thrown by his mentor.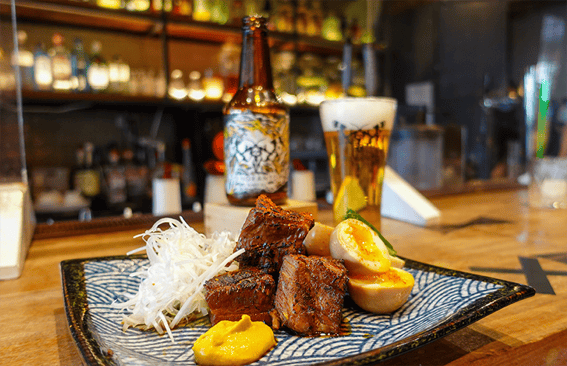 Chef Kalel has prepared Biru Kakuni for Engkanto, a pork dish braised in Engkanto Blonde Ale beer. He took inspiration from one of his trips in Japan where he found the izakaya culture in casual drinking bars fondly similar to the Philippines where pulutan or tapas are served. The dish, as Chef Kalel describes, resembles our local favourite adobo. The addition of the alcohol from the craft beer doesn't overpower the flavour of the ingredients, but it creates a delicate, hoppy finish to the tender, flavourful meat.
Chef Enrique Moreno fulfills his childhood dream
As an aspiring cook in his family's kitchen, Chef Enrique dreamt of having his restaurant. Despite his early exposure, he took it upon himself to learn the trade for years, managing acclaimed dining brands across Manila.
Chef Enrique was close to fulfilling his dream when he took a detour to do one more thing he's been putting off for so long—giving back to De La Salle De La Salle – College of St. Benilde, his alma mater. And so he became an educator for the future chefs who relished their time learning from him.
Finally, the summit of Chef Enrique's journey is Mijo Comfort Food, his restaurant in Poblacion, Makati City that pays homage to the traditions his grandmothers have kept close to heart.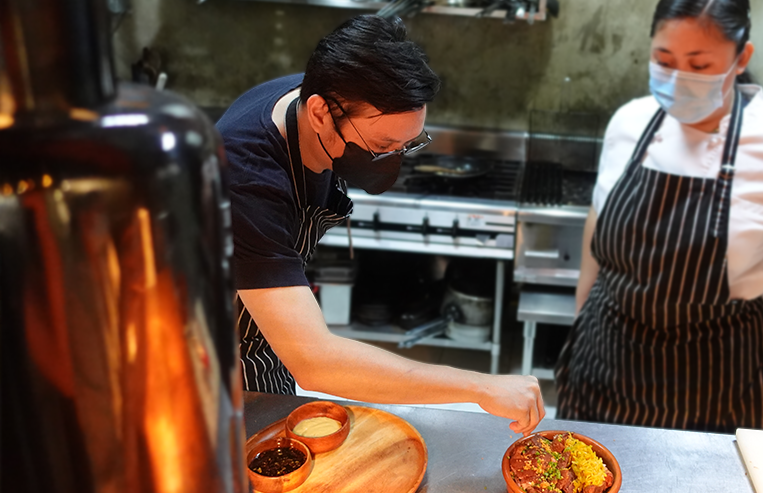 Chef Enrique shares this affection through comforting dishes that he has grown up with like Asado, roasted pork belly, and Pata, crispy cured pork hocks. These dishes are simple and familiar to many families in the Philippines, yet he adds a personal touch not only to satisfy the hunger of diners but create lasting memories.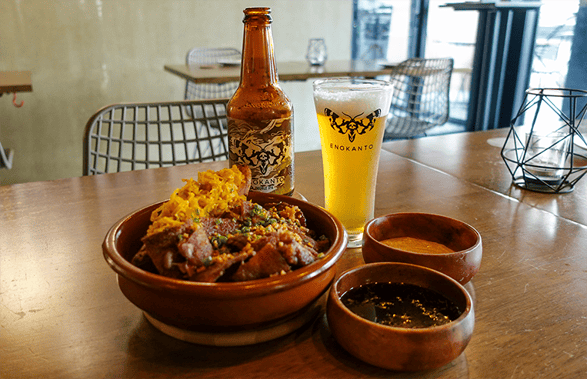 In infusing a fresh taste for his special dish called Crispy Beer Braised Pork Hocks, Chef Enrique with his head chef Angela Leonor used an Engkanto Double IPA, which he says is the type of beer that has the most character. Although it's very big in body and packs a punch, it is still easy to pair and drink, even in hot weather. He describes the local craft beer as having a lot of flavor profiles. And in preparing the boiling liquid for the pork, he added fennel, orange peel, cinnamon and other spices that take after his perceptions of the flavour from the Double IPA. 
→ Download these easy-to-follow recipes for the special dishes you can cook at home!
Chef Tina Legarda breaks the mould and makes her lasting mark
Chef Tina wanted to make a mark in the culinary industry on her own. She was introduced to cooking early through her mother's successful catering business, but she chose to break the mould. It was her desire to exceed expectations that propelled her to a new direction.
Chef Tina tested the waters and apprenticed at Chef Billy King's French Corner restaurant in Manila and Chef Mario Batali's Osteria Mozza in Singapore. Her passion drove her beyond her comfort zone, and it's where she found respect to everyone who puts in the hard work, from stewards and servers to line cooks and fellow chefs.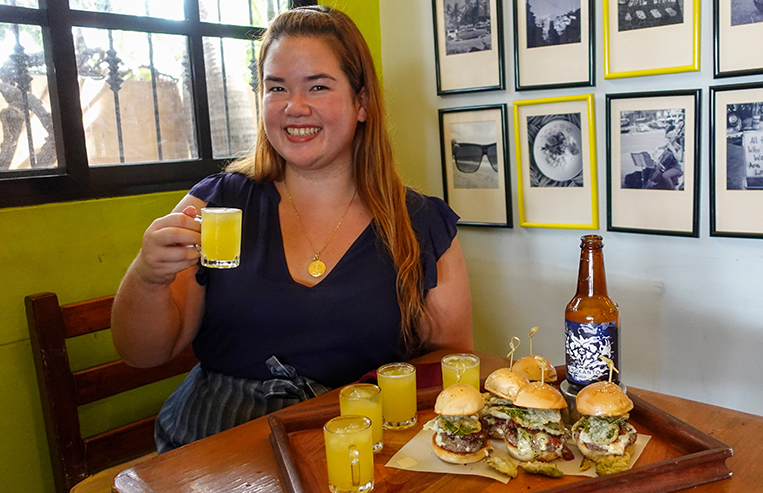 On the flip side, Bamba Bistro is everything but uneasy. Chef Tina's charming neighborhood restaurant in BF Homes Parañaque City resembles a home that welcomes all, whether in sneakers or heels, to savour comfort food. At the end of the day, Chef Tina wants her restaurant to resonate the warmth of her family through delicious meals and delightful moments.
For The Friday Night Sliders, a perfect match of Angus Burgers with Grape-Beer Jam and Lagerita Shots, Chef Tina infused the jam with Engkanto Lager. The beer balances the sweetness and tartness of grapes while giving the burger a twist with different ingredients and textures. Meanwhile, topping the refreshing signature drink of lagerita, a mix beer and margarita, Engkanto Lager introduces the tropical fruit and lime taste for everyone.

Chefs Kevin Navoa, Thirdy Dolatre, and Kevin Villarica elevate the Filipino dining experience
In Hapag, classic Filipino cuisine is elevated in a modern, elegant fashion. Chefs Kevin Navoa, Thirdy Dolatre, and Kevin Villarica have been yearning to showcase the homecooked meals they grew up in the most creative way. And they did.
But before achieving what they deeply envisioned, the chefs honed their skills through experience in different countries, with Chef Thirdy notably earning his stripes from Benu, a three Michelin-starred restaurant in California. After all those years, home remained tucked in their hearts and their minds fixed in paying homage to Filipino food. When they were finally ready to take off, the chefs returned with newfound determination and put together Hapag in Katipunan, Quezon City.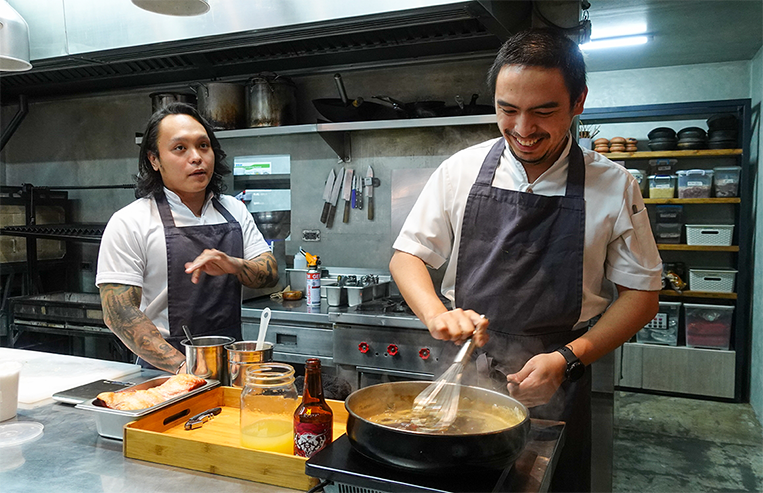 For their carefully plated creations, they prefer using regional produce like coffee oil from Benguet, fine cacao from Mindanao, and even locally bred goat meat, which is popular in many provinces. Their restaurant Hapag, located at Katipunan, Quezon City, features an open kitchen, a subtle touch that shows their sincerity to guests.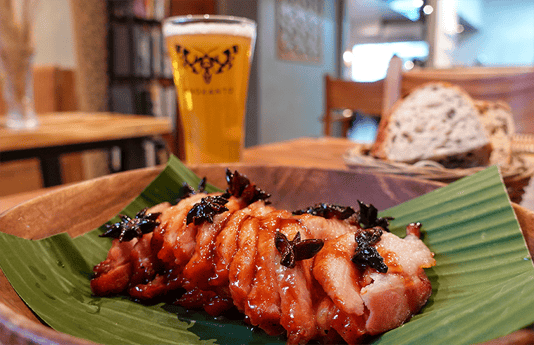 For Hapag's Pinoy-style Holiday Ham with Engkanto Pale Ale & Pineapple Glaze, the chefs selected Engkanto Pale Ale for its very balanced body, flavours, and aromas. They've mixed the beer with their own naturally fermented pineapple juice along with star anise, brown sugar, and mustard. The chefs explain that the glaze goes well with the saltiness of the Cured Pork Belly since Engkanto Pale Ale's acidity and freshness strikes the perfect balance.
The dedication of these chefs for not accepting the status quo shows us that it is possible to achieve the changes we long desire, and that inspires us beyond belief. This is exactly why Engkanto exists today; to drive you to challenge what you have been meaning to change for so long.