Hazy, fruity, juicy. Three words you won't usually see on a typical beer label.
Then again, craft beers are far from what's typical.
In reimagining new beer styles to introduce to local drinkers, Michael 'MJ' Jordan, Brewmaster for Engkanto, had his reservations about the New England IPA style, also known as Hazy IPA.
While this style made waves globally in what is referred to as the 'haze craze,' MJ initially thought that offering a fruity and juicy IPA beer in a country that's still embracing the craft might "come and go quickly."
What's the catalyst that made him push forward with the style? The prized Philippine mango.
For the third installment about Engkanto's more creative and more exciting beer line-up, we're enticing you to savor a tropical escape with the Mango Nation Hazy IPA. We're stripping it down to its natural ingredients, clearing up ideas about its haziness, and showing how craft brewing helps sustain local communities.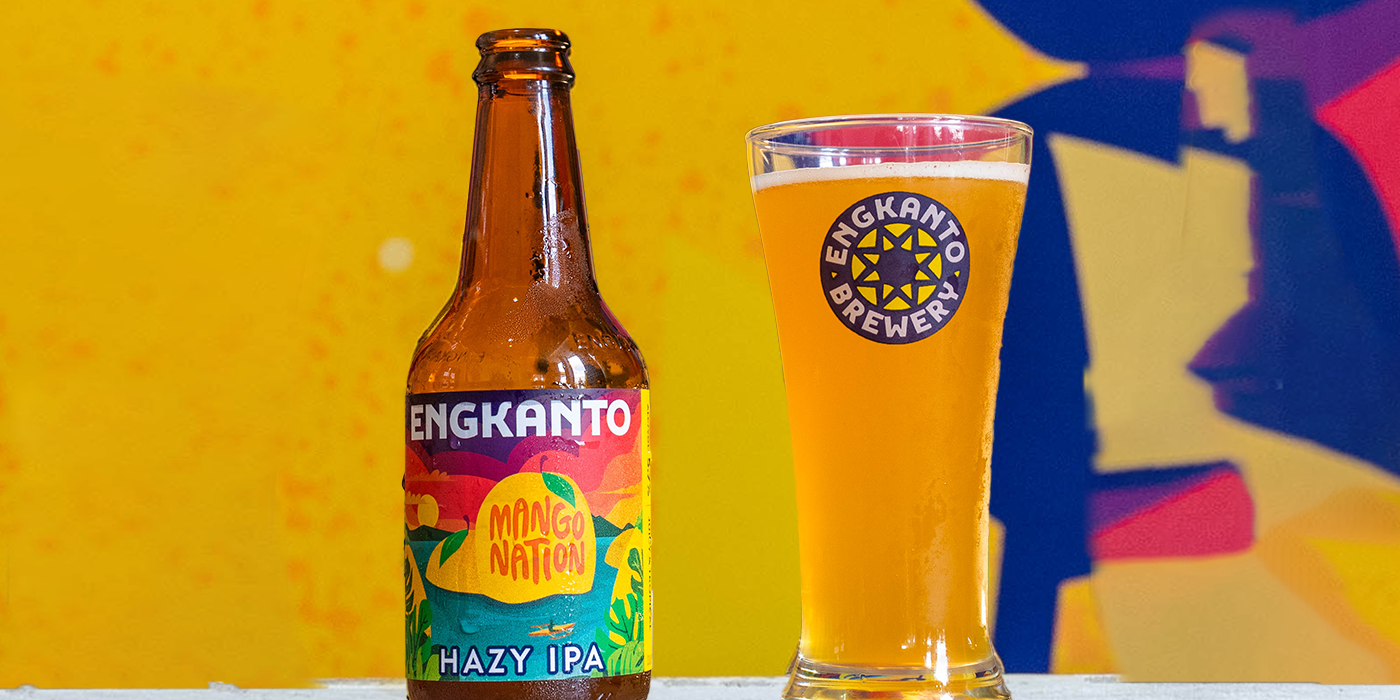 Where the 'haze craze' started
For those totally clueless about what a Hazy IPA is, a quick origin story:
In the early 2000s, Alchemist Brewery in Vermont, located in the New England region of northeastern United States, was experimenting to make a less bitter American IPA. The IPA's distinct bitterness, coupled with its high alcohol level, has made it a staple of craft breweries predominantly from the US West Coast.
Heady Topper, as Alchemist called it, was the result of that experiment. It came out like a murky yet flavorful fruit juice. Customers gave praises to the taste, while brewers took notice of its appearance.
Not long after, many breweries on the East Coast are making their own versions. The 'haze craze' trend soon burst its way into the American craft scene in a few short months. Eventually, the New England IPA or Hazy IPA, a new beer style from its American IPA roots, was born.
Exploring a hazy style for the local palate
Taking risks and trying new things are imbued in craft brewers.
Brewmaster MJ, a true fan of Hazy IPA, was skeptical at first whether drinkers in the Philippines who swear by lager beers can appreciate a murky and juicy style.
More importantly, he didn't want to throw a fad. He aims for the amazing style to stick with beer enthusiasts in the long haul.
The Hazy IPA's low bitterness made it really appealing for MJ. He describes, "local drinkers aren't really aware or appreciate bitterness as much, so it really made sense to create a Hazy IPA geared towards the local market and use a local fruit in the process."
Mango is the main ingredient
Among different local fruits, the prized Philippine mango was handpicked by MJ and the team.
Its abundance, freshness, and quality make it great for brewing world-class Engkanto craft beers.
"Beautiful, raw, fresh mango goes into our beers," says MJ. "For our batch size and volume, we're using all-natural puree with no sweeteners. We receive the ingredient from a local supplier within Laguna, who sources mangoes from the Luzon and Visayas regions."
"It's just nice to live on this side of the world and enjoy fresh mangoes and not using mango extract or whatever artificial flavoring there is," MJ adds.
Shipped frozen to the brewery, the mango is kept frozen and thawed before use. Coordinating with the local supplier in handling the main ingredient is just as crucial for the rest of the raw, imported materials. All of these play a role in achieving the desired level of haziness.
A brewmaster's artful balance
When Brewmaster MJ took the helm of Boxing Cat Brewery, China's most internationally awarded craft brewery, he brewed several Hazy IPAs. Among that stood out is the Flipping Mango Hazy IPA, which uses mango in juice form.
Now with Engkanto Brewery, MJ's even more excited to brew the Hazy IPA beer style using all-natural Philippine mango. "The mangoes I've had here have a lot of natural sweetness and I think there's a lot of varieties, too," says MJ.
Striking the balance of the mango's sweetness are imported hop varieties. These hops have tropical notes, which include coconut and other fruits. The blend of the hops creates enough bitterness while still allowing the mango profile to come out. A second addition of the mango happens in post fermentation to amplify the aroma and flavor.
As for the alcohol level, the ABV of the beer has been marked at 5.7% to make it approachable for a wider swath of beer drinkers.

All eyes on the hazy appearance
The eye-catching haze of the Mango Nation Hazy IPA comes from a few sources.
First is the use of a lot of oats in the brewhouse. According to MJ, this gives the beer its stable, permanent haze. Another factor is the use of a particular "liquid" yeast applicable to the beer style. Lastly, two dry-hopping additions also contribute to the cloudy appearance.
From a general standpoint, many brewers use a fair amount of oats in their beer recipes to achieve the haze for their Hazy IPAs.
A beautiful beer for new enthusiasts
Mango Nation Hazy IPA is brewed for a reason. It's meant to invite a reaction; it's made to stimulate the senses.
"I'd like to observe drinkers from a distance and see the reactions in their eyes. I like it when they go 'Oh, that's different' and then slide in the conversation asking what they think about the beer," describes Brewmaster MJ.
What stood out for him was an interaction with someone who quipped the lines, "I don't know this could be a beer. I don't know this existed."
Full of aroma and flavor, the juicy and fruity Mango Nation Hazy IPA has been a favorite of many local drinkers since its launch together with other Engkanto beers in the new line-up.
For a beautiful beer that has unique character, Mango Nation lends an experience that can be enjoyed on its own.
Foodies, meanwhile, will also find it easy to pair with certain local dishes that have an underlying citrus profile like "kinilaw" or ceviche. It can also contrast or cut the spice in other dishes.
Order Engkanto Mango Nation Hazy IPA here: https://engkanto.com.ph/products/mango-nation-hazy-ipa