Steeped in tradition, the Lager is the most consumed beer in the world. It's hard to deny that it's the world's favorite beer style.
Among the several types of Lager, Czech-style and German-style pilsners are largely influential. They're the precursors of many popular commercial beers that have become household names. In other words, your beer-loving ancestors probably drank more lagers than they could count. Why? Simple. It's so easy to drink.
For the Lager's tried, tested, and timeless appeal, is it still possible to put a creative spin on such a classic drink?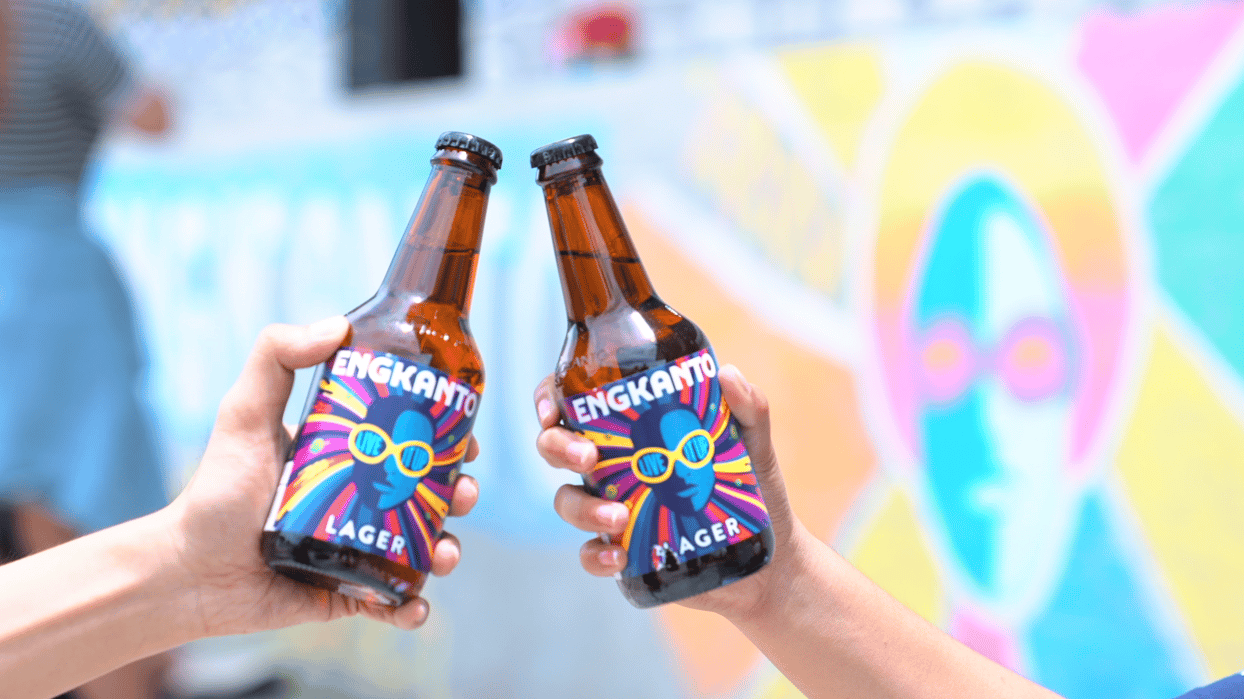 Engkanto Brewmaster Michael 'MJ' Jordan gave it a shot with the Live It Up Lager, and his artistic reinterpretation of the style has shaken up the standard.
In part one of this four-part blog series on Engkanto's beer line-up, we're dishing out what goes behind the brewing of Live It Up Lager. Read on and find out the ingredients, processes, and people that come together to create a simple yet award-winning craft beer.

A Brewmaster's expressive approach
Inspiration for brewing craft beers can readily come from the classics.
Brewmaster MJ, coming up with his recipe for the Live It Up Lager, found his own in Czech-style and German-style pilsners. He intended to reinterpret the styles and make them likeable based on the preferences of local drinkers and the tropical climate of the Philippines.
These hop-forward pilsners from Europe are both high in bitterness, which gives them striking characters. Despite this, MJ thinks the everyday consumer is not necessarily ready for that.

"We have modified the Live It Up Lager to be lighter, less bitter, and very drinkable in our hot weather climate," says MJ. "The essence of the beer is all about simplicity. Within that simplicity, there's a lot of attention to detail, and you can't really hide much behind it."

The makings of a New World pilsner
Live It Up Lager comprises of three different malts, three different hops, and beautiful Pilsner malt. The malt gives a light biscuit, cracker, or bread profile, and a bit of color and character.
Instead of brewing with noble hops, which are hops cultivated in Europe, 'New World' hops from the US are used in the Live It Up Lager. These hops have citrus notes, which are subdued and not the 'in-your-face' type. There is also a bit of spice, herbs, and fruit notes with the American hops.
Adding the hops at different points of the brewing process creates the right level of bitterness while still keeping it session-able or easy to drink.

Cooler, slower fermentation for balance

The standard Lager yeast strain, which is bottom fermenting, works well in temperatures of about 10 to 13 degrees Celsius. On the other hand, Ale yeast strains favor warmer conditions around 20 degrees Celsius.

For a balanced flavor, there has to be low influence of yeast. Hence, it is fermented slightly colder. The slow activity of the Lager yeast also contributes to achieving that crucial balance.
"At the end of the day, we want a harmonious balance. We allow the malt and hops to work together to give us something that is truly flavorful," describes MJ.
Since our Lager's brewing process gravitates at 24 days, that maturation period ensures nothing unwanted comes up. It takes longer than Ales, which is why most craft breweries prefer starting with Ale beers. The faster brewing time and require less equipment.

An appearance that strikes golden

Bright, sparkling, clear. Beer drinkers have come to enjoy the lasting impression of many Lager beers.
What makes the Live It Up Lager stunningly clear is our polished filter. On top of that, the lagering process keeps away the presence of yeast. And since unwanted haze can come from different sources, we also filter them out.
After reaching a brilliantly golden appearance, the Live It Up Lager should form a dense white foam called 'beer head' when poured into a glass. Hence, head retention is a sign of good carbonation. Another sign is called lacing. This happens when bubbles, which are malt protein, cling to the sides of the glass.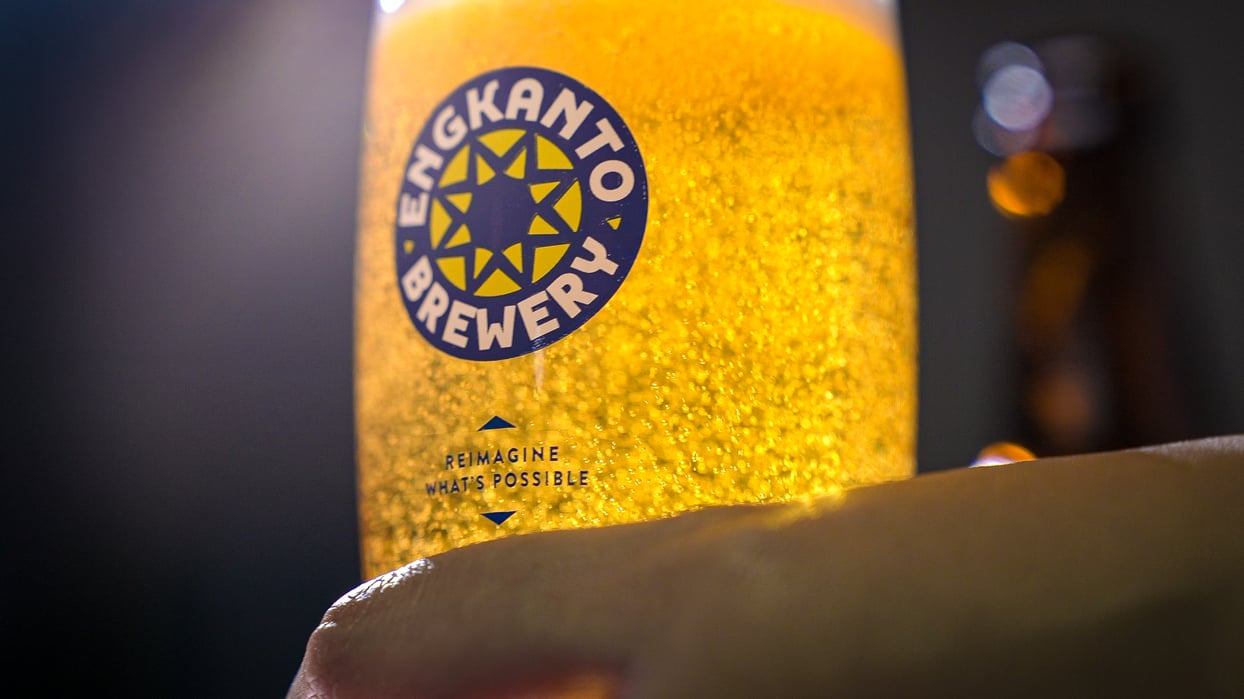 The committed people behind the brew

No individual, no matter how ingenious, can make great beers alone.
At the brewery, our team of committed people put in their best and work closely with Brewmaster MJ. Their goal is to keep the standards of Live It Up Lager as an internationally awarded craft beer.
On an all-important brewing day, MJ's brewing team kicks off the process of milling. James, Reymar, and Jhon manually pick up 25-kilogram bags of malt, pour them into the hopper, and then to the mill where the malt kernels get cracked open. Next is at the brewhouse or what is called the 'hot side'. Zar and Ronie manage the mashing and lautering processes. When they are complete, Jhon will ready the fermentation tank to cool the wort or the liquid that has been extracted from the mashing process.
Over at the laboratory, Alvin and Miyo perform crucial tests at every step of the brewing process. They test for PH levels of substances, sugar and water concentration, to name a few. The engineering and bottling and packaging teams also work closely with MJ and the brewing team, which proves there is a lot of communication and interaction in the brewery.
"A lot of hands are involved," says MJ. "I tend to be like a director of an orchestra. A lot is happening throughout the day for analysis and feedback, and in gathering vital information like temperature, PH, and volume."
Crisp and refreshing, the Live It Lager is brewed under truly complicated processes, yet the beer is meant to be easy to drink.
As Brewmaster MJ suggests, "make it your go-to beer for any occasion or celebration since it is flexible with most foods. It also represents a laid-back culture and light-hearted and easy-going personality." watch as Michael 'MJ' Jordan, Brewmaster of Engkanto, introduces the clear and refreshing Live It Up Lager
To order Engkanto Live it Up Lager order here: https://engkanto.com.ph/products/live-it-up-lager